Project Help arrives at a school in Costa Rica
On February 6th, the Help project gathered around 800 students in a seminar to raise awareness of the value of life at Colégio Liceo de San José, in the capital of Costa Rica.
Learn more: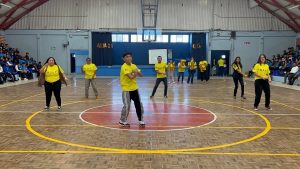 The "Help in the Schools" action promoted by the project that has made a difference in the most different locations in Brazil, this time, arrived in Central America.
At the beginning of the school year, the conversation about valuing life was held at one of the oldest schools in the capital of Costa Rica, Liceo de San José, founded in 1954.
The seminar was given to around 800 students present, in addition to professors, advisors and members of the school's administrative sector.
In addition, students were able to watch a dance performance choreographed by project members.
The goal:

The seminar presented addressed relevant topics according to the many current situations present in the lives of young people, such as the constant battle against bad thoughts. On the occasion, the coordinator of the VYG in the country, Samuel Santos, taught through real life stories of overcoming, how to overcome the bad thoughts that have suffocated many.
The person in charge said:
"The importance of the seminar for the Liceo de San José was to make everyone present not listen to negative thoughts. It was taught that, when these thoughts arise, we must be more resistant so that we can win and move forward. The school teachers themselves told us that, last year, they had some suicide incidents and that this lecture will surely help everyone to overcome these thoughts of death", he says.
Discover the project:
The mission of "Help in the Schools" is to promote self-knowledge through learning how to manage emotions, in addition to encouraging well-being and establishing bonds of trust. In addition, the project has dynamic activities that join forces with educational institutions in order to transform lives through the school environment. In Brazil, the project's actions served around 1,500 schools and more than 250,000 students were reached by the seminars.